Blog Archives
With the global population set to reach 7 billion people later this year food and resource security is becoming increasingly more important. This week a new report from the UN Environment Programme (UNEP) and its partners announced that investing in healthy ecosystems could improve food security, enhance resilience to climate change, as well as provide economic benefits for poor communities.
The report, which was written by over 50 contributors, uses case studies of China, Guatemala, Jordan as well as others to present the issues as well as recommend changes. The three specific areas of change in order to improve food security and reduce stresses on water supplies are detailed as: environmental protection, water resources management and food production. The report also explains that one of the most difficult challenges in improving current levels of food production is the availability of water because it is needed for livestock, crop irrigation, fisheries and other agricultural uses. Likewise, the report also makes recommendations for drylands, wetlands, crop systems, fisheries and livestock systems.
"Maintaining healthy, resilient ecosystems to ensure water availability for agriculture and other ecosystem services is thus essential for long-term food security," a press release on the report produced by UNEP and the International Water Management Institute (IWMI) stated.
Investing in our healthy ecosystems could make huge differences in the everyday and long-term lives of communities around the globe. You can also get involved in a variety of ways, both small and big, through WhyHunger.com – a organization building a movement to end hunger and poverty by connecting people to nutritious, affordable food and by supporting grassroots solutions. Likewise you can read more about the global food crisis and what the UN is doing to help here.
Here at UNA-GB we will be holding a Women's Forum Luncheon Roundtable on October 6th, which will focus on Women, Population, and the Millennium Development Goals.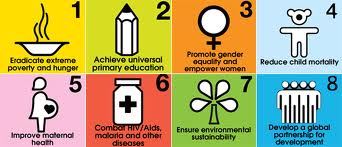 Jane Roberts, a grassroots advocate who is the co-founder of the 34 Million Friends of the UNFPA project will share how supporting gender equality makes a positive impact on all of the MDGs and population issues as a whole. Her contributions in the fields of population, development, the environment, and the human rights of women and girls have led to many recognitions, including a feature chapter in Nicholas Kristof's NY Times bestseller Half the Sky.  RSVP now to get involved and join the conversation!
– Alexandra
Tomorrow people all over the world will celebrate Mother's Day with gifts, namely roses, fine chocolates and lavish dinners.  But Mother's Day does not just have to be about honoring your mother with presents or participating in the commercial aspect of this holiday – it can be so much richer than that; it can be about making the world a healthier and safer place for all mothers.  It's makes a world of difference of us all!
Some Americans, for example, are going beyond the traditional Mother's Day celebrations and commemorating motherhood by saving the lives of mothers around the world.  Alongside an inspirational woman named Edna Adan, they are changing the lives of women in an impoverished nook of Somaliland in the horn of Africa by making childbirth safer there, offering family planning services and trying to put an end to female genital mutilation.
Another group of women took up the challenge of helping to save mothers' lives around the world by starting their own "Mothers' Day Campaign."   They hope that Americans will consecrate the mother in their lives not only with presents, but also by helping impoverished women and girls through a particular charity.
Furthermore, you can take action this Mother's Day by supporting the efforts of Every Mother Counts, an advocacy and mobilization campaign to increase education and support for maternal and child health.  Consider hosting a watch party with friends and loved ones for their documentary film, "No Woman, No Cry," which is premiering on the Oprah Winfrey Network (OWN) on Saturday, May 7 at 9:30pm and 12:30am EST & PST and 8:30pm & 11:30pm CST; and on Sunday, May 8 at 1pm EST & PST and noon CST.  In her documentary, Christy Turlington Burns shares the powerful stories of at-risk pregnant women in four parts of the world, including a remote Maasai tribe in Tanzania, a slum of Bangladesh, a post-abortion care ward in Guatemala, and a prenatal clinic in the United States.  Check out the trailer here!
So this Sunday, make Mother's Day more meaningful than ever before and consider not only honoring your own mom, but someone else's mom as well!
-Hanna